Growing up, Leila Weefur knew of Frederick Douglass, the writer, activist, and former slave turned abolitionist.
"As a child, my mother put me in an all-Black elementary school in Oakland," Weefur, a UC Berkeley lecturer and a member of artist network The Black Aesthetic said.
"In kindergarten we were learning to read on [Douglass'] slave narratives. We recited the Black National Anthem every morning and we were practicing Kwanzaa principles. It was a very Black cultural experience."
As part of a larger exhibition inspired by the life of Douglass, Weefur has curated a program of short films called "New Labor Movements" that "seeks to engineer a gender diverse, intergenerational dialogue amongst Black filmmakers," according to the website of San Francisco's McEvoy Foundation, which is sponsoring the show. The first two installations, or "movements," in Weefur's series are available to view online via the Roxie Theater through December 24th.
The films are one component of "Lessons of the Hour,"Isaac Julien's 10-screen film installation and photography exhibition exploring Douglass' life and impact. The show has been expanded for its West Coast debut at San Francisco's McEvoy Foundation (through March 13, but closed temporarily.) It features the McEvoy Family Collection's contemporary photos from civil rights struggles titled "When Living is a Protest," curated by Mark Nash.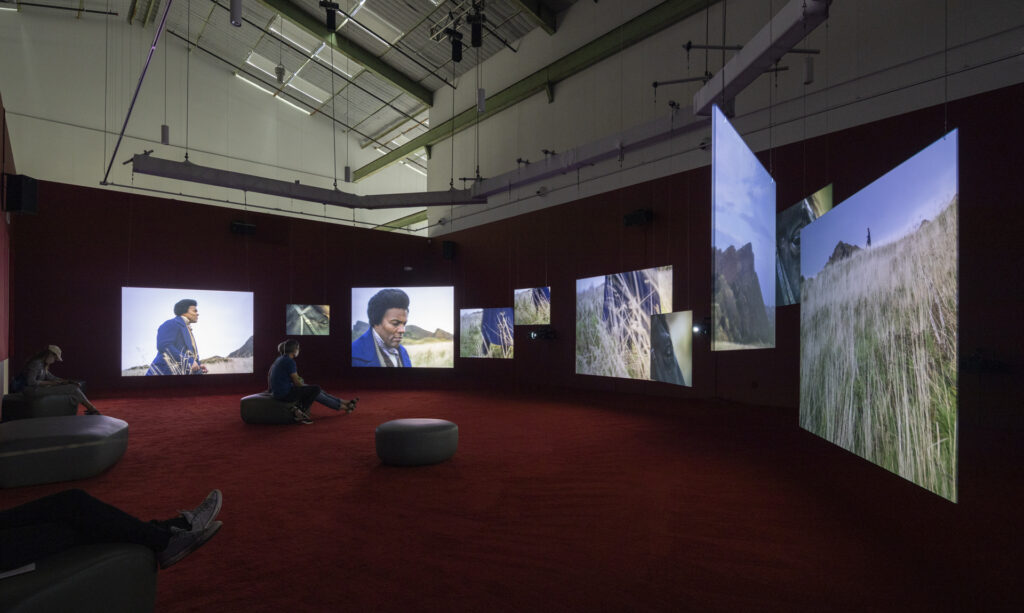 The title of the show comes from a 1894 talk Douglass gave. One of the most photographed men of the 19th century, he saw photography as a way that "Black people could control their likeness beyond caricature." "Lessons of the Hour" uses excerpts from this speech, as well as Douglass' famous "What to a Slave is the Fourth of July?" oration, and dramatizes periods of his life—including his time in Scotland, where he did anti-slavery work and where funds were raised to buy his freedom.
Help us save local journalism!
Every tax-deductible donation helps us grow to cover the issues that mean the most to our community. Become a 48 Hills Hero and support the only daily progressive news source in the Bay Area.Learn More
Weefur says there are a lot of reasons to use movement in the films they chose.
"There are the obvious points of movement in cinema, like the movement that occurs in the space itself," Weefur said. "Characters are transversing landscapes, and 'Lessons of the Hour' is about trans-Atlantic slaver movement. It shows Douglass in Scotland, so there's geographic and psychological movement."
The show was planned before the shutdown and before protests erupted around the country over George Floyd being murdered by police officers. But still, "It's also located in and outside political movements, the most obvious being Black Lives Matter," Weefur said. "I wanted a work that could capture you and make you understand that even when your body is still, you understand time and space. 'New Labor Movements' is doing emotional labor and physiological labor that is defining the Black body across all of the parallels of time and history."
Weefur wanted to include both well-known and lesser-known filmmakers in the series. For the series first installation "Assembly," they chose Kevin Jerome Everson and Claudrena N. Harold's "Hampton."
"Kevin Jerome Everson was one of the first people I thought of," Weefur said. "His work captures the Black working class on celluloid. 'Hampton' opens up with a gospel choir and a bus driver, and it opens up the space to think about labor and movement."
Weefur also included white filmmaker Mitch McCabe's "Civil War Surveillance Poems."
"It takes us and moves us across the American landscape, and shows us the white working class," Weefur said. "It opens it up in such a way to understand the binary that happens in conversations about race."
They have long admired Julien's work, and Weefur says "Lessons of the Hour" has a big effect.
"I had an emotional response to seeing a figure like Frederick Douglass reincarnated through Isaac Julien's narrative and vision," they said. "I often wondered what it felt like for the actor [Ray Fearon] to play Frederick Douglass and about the mechanics of making the story. I'd never seen anything like it. When you watch as much video as I do, you see things repeat themselves, but Isaac doesn't do that."
Julien's originality is one of many things Weefur likes about his work.
"He has a way of imbuing characters with a kind of spirited voice," Weefur said. "I think the first work of his I saw was Looking for Langston. It's an amazing film about gay Black men. I was drawn to that and Marlon Riggs' Tongues Untied, which both showed me a vision of Black queer sexuality I hadn't seen."
Both those movies came out in 1989, the year Weefur was born, and that added to their affinity for the movies. Getting to work with Julien was a bright spot in a pandemic year.
"I enjoyed how natural it felt for us to be in conversation," Weefur said. "I enjoyed how much respect Isaac has for all the people he works with and the energy he has. Having his support felt really good in 2020."