San Francisco has tended to be defined by its high profile cultural moments and movements, from the libertine Barbary Coast era to the Beats, Haight-Ashbury hippiedom, and the "Gay Mecca" identity that arrived not long after. Now we're getting defined by the influx of tech-industry money and (cough) culture.
But this kind of trend-highlighting invariably leaves certain periods comparatively neglected. Already, the SF that existed between the ebb-out of 60s counterculture—into which you might say the local coffin-nail was driven by the 1978 assassinations of Harvey Milk and George Moscone—and the first, "dot-com" tech boom a couple decades later is receding into the shadows. Face it, much of the city's current population wasn't here then, and they probably haven't heard a great deal about it, either. (Save that rents were cheaper then, of course.)
Nonetheless, those of us who got here too late to live the legendary periods of '60s/'70s excess, but before (to paraphrase vintage New Wave band The Brains) money changed everything, still have plenty to be nostalgic about. Yes, that party's end was further hastened by the AIDS epidemic. But there was also the heroic, community-building response to that epidemic—which in many ways provided a model for the nation and beyond—as well as a terrifically fertile arts scene that encompassed numerous media, and was greatly entangled with the area's punk/New Wave music scene.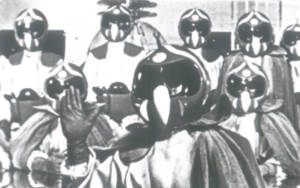 Two major exhibits open through Jan. 18 at the two-year-old McAvoy Foundation for the Arts in Dogpatch—an area that's seen an explosion of new gallery spaces—cast a bracing eye back to that period roughly between 1978 and 1998. Michael Jang's California is the first major solo exhibition for the No. Cal.-raised, SF-based photographer. Blazing and Blasted: Post-Punk Pre-Tech Underground Film in 1990s San Francisco is the first program curated by Joel Shepard since his axing from the Film/Video Curator position at Yerba Buena Center for the Arts, an institution whose lack of remaining in-house curatorial staff in any media these days has rendered its role in the local cultural landscape murky at best. Both these exhibits are diverse, high-energy chunks of SF art (and social) history with appeal well beyond the usual gallery bounds.
Beginning with a representative selection of works by photographers (Garry Winogrand, Diane Arbus, Lee Friedlander) who stretched the boundaries of photography as both art and documentation, "Michael Jang's California" then charts the Marysville native's career as he parlayed their influences into his own unique pictures. At CalArts in early '70s Los Angeles, he caught some unauthorized glimpses of Hollywood life (notably at the Beverly Hilton, where he used fake press credentials to access celebrity events). He then settled in SF, initially to earn an MFA from SF Art Institute. The images here from that period capture the almost manic-depressive wildness of Me Decade life, from the Hooker's Ball to Joe Alioto at Moscone's funeral, to snaps of citizens both known (Willie Brown, poet Michael McClure) and unknown (but still flamboyant). Three giant blow-ups of latter specimens on one wall testify to the brio with everyone at that moment seemed to be pursuing free-to-be-me-ness.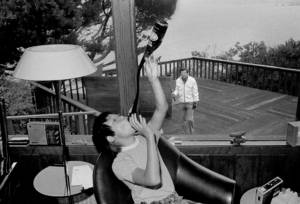 Beyond his own art, Jang's main love was music—and a second room dedicated to his work showcases later photos, zines, album covers et al. devoted to area punk/New Wave outfits and their fanbase. We also see pictures of a free 1979 Civic Center concert by the Ramones, as well as shows by The Tubes and Suicide. Most of these images are in B&W, but an array of later teenage punk scene snaps in lurid color offers particular delight—you can practically feel those adolescent hormones vibrating off the wall.
In the adjacent screening room, "Blazing and Blasted" offers four separate themed programs that start on the hour and repeat throughout daily gallery hours. They encompass works by 16 local artists, several of whom have gone on to mentor subsequent generations of film/video creators.
Two of them are on the "Subterranean" bill: That granddaddy of avant-garde camp, the late George Kuchar (who taught at SFAI during and well after Jang's studies there) is represented by the classically sweet-and-sensational video diary-slash-pulp-fantasy Uncle Evil, while the equally influential Craig Baldwin contributes 1991's political critique/conspiracy theory/found footage extravaganza Tribulation 99.
Much else that's here is also playful, political and personal to varying degrees, often subversively deploying found footage (as in shorts by Dean Snider, Thad Povey and Anne Maguire), or overtly analyzing past media as Valerie Soe's Picturing Oriental Girls does with the fetishized Western image of Asian femininity. There's some relatively straight-up documentation, like Lourdes Portillo's record of AIDS casualty performance artist Wayne Corbitt's Sometimes My Feet Go Numb, or Vero Majano's glimpse of a vanishing Mission District in Calle Chula.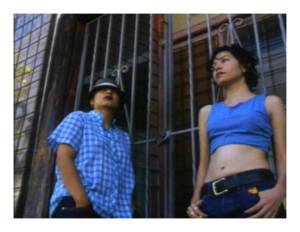 There's narrative cinema with a major dose of punk attitude in Sara Jacobsen's B&W I Was A Teenage Serial Killer—whose protagonist kills "19 men … one for every year I ever lived," and hoo man do they deserve it—as well as Jon Moritsugu's bad-taste black comedy Terminal USA, an hour-long beneficiary of PBS and NEA grants that wound up being considerably more than those institutions bargained for. (Many PBS stations refused to air it.)
And in the realm of art for art's sake, there are the furious spewings of Martha Colburn's cacophonous, libidinous, semi-animated collage Spiders in Love, not to mention Survival Research Laboratories' Crime Wave. What could better encapsulate a San Francisco that is no more than the latter's record of a performance in an empty SOMA lot whose spectators had to sign liability waivers, should they happen to get torched or maimed by runaway self-destructing robot machines created not via startup fundraising but from scavenged junkyard parts?