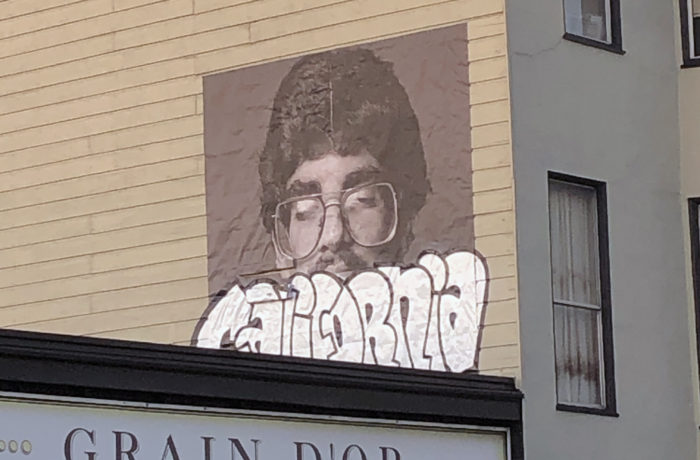 A work from Michael Jang, a local photographer whose work is included in the SFMOMA permanent collection, has been installed on the side of a building on the 200 block of Clement Street between 3rd and 4th Avenues.
The piece – a black and white portrait of a man with "California" graffiti'd at the bottom of it – is meant to promote a new upcoming exhibition of Jang's work at the McEvoy Foundation for the Arts entitled "Michael Jang's California" (we think it's a self portrait of Jang himself, but we're not certain…).
Jang is best known for his portrait and street photography from the 1970's, much of it in and around San Francisco. Some of his images capture iconic figures such as Jimi Hendrix, Ronald Reagan, and Robin Williams.
Jang is equally known for his work "documenting a number of groups and subcultures from all strata of society: from celebrity parties in Beverly Hills to the youth of Castro's Cuba, from South City gangs to Old West rodeos, and from the punk rock scene of the late 70s to the teenage garage bands of early 2000s San Francisco." Several of his works are part of the SFMOMA permanent collection.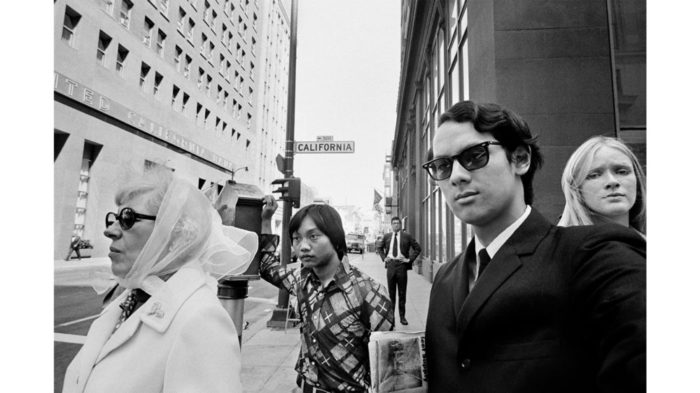 The new McEvoy exhibition that opens on September 29, 2019 explores Jang's career as a portrait and street photographer in California, concentrating on his early work as he was discovering the medium.
Curated by Sandra S. Phillips, Michael Jang's California is the first retrospective exhibition of the artist, assembling dozens of vintage and contemporary prints as well as notebooks and ephemera from seminal encounters over the years. This survey presents a rare journey through Jang's career, from his early student work in the 1970s to commercial headshots of aspiring TV weather reporters in the 1980s to his series on teenage garage bands in the early 2000s. 
In conjunction with the exhibition, the first monograph of Jang's work entitled Who is Michael Jang? will be released by Los Angeles' Atelier Éditions in September.
The Clement Street installation of Jang's work came about as a collaboration between Park Life (220 Clement), design group MacFadden & Thorpe, and the McEvoy Foundation.
The owner of the Clement Street building on which it is installed, Michael Busk of Busvan, said "[My wife] Patricia and I feel that honoring this local artist in the Richmond is quite cool."
"Michael Jang's California" runs from September 29, 2019 through January 18, 2020 at the McEvoy Foundation, 1150 25th Street. The opening reception for the exhibition will take place on Saturday, September 28 at 5pm.