In "New Labor Movements: Movement III. Freedom/Liberation." at McEvoy Foundation for the Arts, Leila Weefur curates a stunning ensemble of five short films, continuing her series of collected works "that explore contemporary visions of America and concepts of transnational Blackness." Weefur scaffolds a diverse range of identities, narratives, and styles in films by Darol Olu Kae, Terrance Daye, Elegance Bratton films. These films offer glimpses of multiple narratives and histories; Madeleine Hunt-Ehrlich's sophisticated Black Composer Trilogy Part 1: A Quality of Light (2019) and Charlotte Brathwaite's luscious Only When It's Dark Enough Can You See The Stars (2017) employ disruptive narrative techniques to open up a speculative dialogue about representation, reality, and Black voices.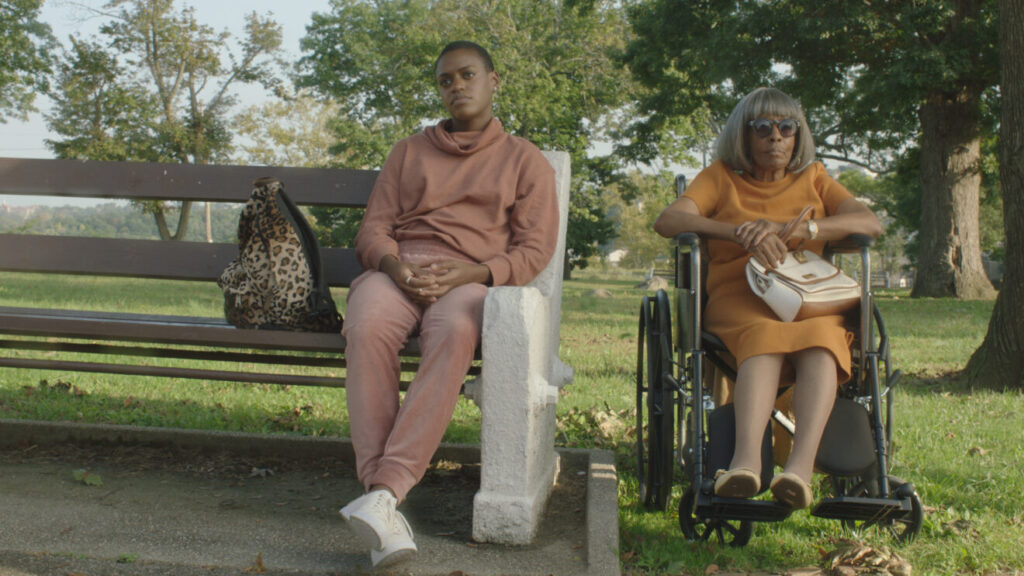 In Hunt-Ehrlich's rather matter-of-fact voice-over, the narrator explains that Daphne, an elderly woman shown in a wheelchair, fell—and that this fall was initially explained by her arthritis, dementia, and blindness. However, the narrator explains, truths cannot be revealed in a single image: Daphne was once a musical prodigy, and both the narrating filmmaker and Daphne are being played by actresses. As closing credits roll, the film loops. This time, however, the film concludes with Daphne alert, with both eyes open, and playing piano. As the filmmaker seizes on the doubt she's laid in the viewer about the accuracy of her film, or any film, she presents an alternate reality that transforms an aged and ailing body into one that is remarkably present.
Hunt-Ehrlich uses a narrative voice to complicate her film; Brathwaite uses two sharply cut voice-overs to reveal fragments of her narrative, which sometimes include script directions not normally heard, like "cut," "voice-over," and "title card." The film toggles between two characters dressed in regal blue costumes powerfully and sensually dancing, eating, and laughing in a cosmic, undefined space and then both of them appearing on a beach, dressed in stylized flight suits with remnants of pallet-wrap clinging to their bodies, a reminder that slaves where considered cargo and shipped across the oceans. When the couple eventually end up in Times Square, they become strangers and spectacles from another place and time. Brathwaite's characters embody multiple realities that fuse a possible origin or history, a cosmic greatness, and a contemporary displacement.
In referring to each screening in this series as a "Movement," Weefur highlights action and flux in a multitude of Black experiences, where origin and destination are paramount to the conundrum of where one comes from, where one is going, and how to locate oneself in the present. A "Movement" is also a part of a musical composition; an organization, zeitgeist, or collective action, as in the Civil Rights Movement; and dance or gesture. As "Movement III" beautifully touches on all of these themes, it suggests that there is no singular history, reality, or identity, but many active individuals who make a constantly shifting and moving whole.
New Labor Movements: Movement III. Freedom/Liberation." is showing at McEvoy Foundation for the Arts' screening room through April 24. As of this writing, the gallery is open by reservation only. More info here.